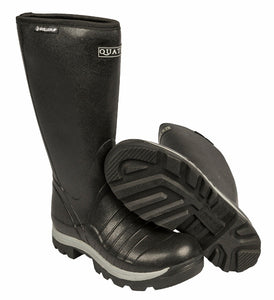 Quatro Non-Insulated Boots
Very Comfortable, Durable and Waterproof!
Designed for comfort and durability.  With a Fiberglass arch, padded sole, one piece technology, and break away cleats, this is a top competitor for the best boot on the market.  You will be equipped for any condition or terrain that you are exposed to.
Yoder Black Wicked Chap: 400 denier inner waterproof layer, plus 840 ballistic outer layer. Extremely durable. Burrs will not stick to it. 
Yoder Black Bush Master Chap:  400 denier inner waterproof layer, outside layer consist of 1 layer of 1680 boll. A very durable and comfortable walking wader. 
Chaps are sewn and sealed to the boot and are 100% Waterproof.
Standard Chap Sizes:
Boot Sizes 6-7 | 25'' thigh, 27'' inseam
Boot Sizes 8-11 | 27'' thigh, 29'' inseam
Boots Sizes 12-15 | 29'' thigh, 29'' inseam
Check your size:
The thigh size should be approximately 2-3'' larger than your upper thigh and approximately 2-3'' shorter than your normal pants inseam.